Conference Details
"St Joseph was an ordinary sort of man on whom God relied to do great things. He did exactly what the Lord wanted him to do, in each and every event that went to make up his life."

St. Josemaria Escriva, priest and founder of Opus Dei
How can we better follow St. Joseph's example
given the temptations and challenges of today's world?
Catholic Manliness
Let's Get Back to It!
The 14th Annual
Tampa Bay Men's Conference
featuring
Bear Woznick, Gus Lloyd
and a Personal Witness Talk
plus special Breakout Sessions on theme-related topics
Saturday, February 10, 2024
6:30 AM Rosary | 8:00 AM Mass | 9:00 AM - 3:00 PM Conference Program
Higgins Hall, Tampa
on the campus of St. Lawrence Catholic Church
Tickets are $60 per person with special 2 for 1 Father/Son combo pricing.
High School/College Student single tickets are $30 each.
Clergy and other religious are Free
Pricing includes lunch and a breakfast snack
BEAR WOZNICK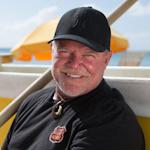 A rare combination of world champion surfer, serious adventure seeker, business owner, husband, father, and devout Catholic, Bear Woznick lives by the creed, "The most radical quest a man can pursue in life is to abandon himself to God's will."
Bear's many physical accomplishments include being a two-time Masters World Tandem Surfing Champ and a Legends Stand Up Paddle Surfing Champ, guest starring on "Hawaii 5-O", holding a very rare NINJA marital arts black belt, and pedaling his bicycle 2500 miles from the Pacific to Atlantic Oceans. But it is in his Catholic faith that Bear has found his greatest fulfillment.
Not only is Bear a Benedictine Oblate, but he also uses his fame and the media to evangelize his faith. He hosts a faith-based motorcycle reality TV show, "Long Ride Home with Bear Woznick" which is distributed through EWTN, Armed Forces TV and Amazon Prime. He also hosts a weekly EWTN radio program "The Bear Woznick Adventure" and a daily Facebook Live series "Ocean Sunrise Catechism". Bear has authored several books: "A Surfing Guide to the Soul," (an Amazon best seller), "Deep Adventure – The Way of Heroic Virtue", and most recently "Where Have All the Cowboys Gone - 12 Rules for Manliness." Through his use of media and his conference talks, Bear inspires people, and particularly men, to a higher calling and purpose, helping them to lead through example those that God has called them to serve.
Bear affirms that being a Catholic man does not just mean being a nice guy who pays the bills, mows the lawn and sits in the pew on Sunday, rather that God calls each of us to be a saint and a hero. As the creed Bear lives by suggests, being a hero requires prayer; it requires suffering; it requires faith formation; and it requires the disciplined pursuit of intimacy with God and an abandonment to His will.
Learn more at BearsSchoolOfManliness.com
GUS LLOYD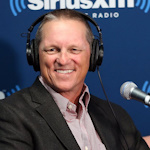 After spending many years as a successful DJ in commercial radio, a near-drowning incident with his daughter made Gus realize that he needed God in his life. He and his wife Michelle began attending a non-denominational Bible church and grew in their love for the Lord. Soon after, they began to look into the Catholic Church. After much searching and study, both Gus and Michelle came to realize that the Catholic Church is the one true Church founded by Christ Jesus.

Gus became active in the Catholic Charismatic movement, and attended the Catholic School of Lay Evangelization, feeling a call to ministry. He produced an album of original Christian music. In 1992, he was asked to join the staff of WBVM, the Catholic radio station in Tampa, FL. He hosted a popular morning show there for nearly 13 years. In 2006, the Archdiocese of New York contacted Gus to host the morning show for The Catholic Channel, a new venture on Sirius Satellite Radio. He has been the host of "Seize the Day" since then.

For the past 20 years, Gus has been a popular speaker at conferences, retreats and parish missions. He speaks on apologetics, evangelization, men's issues, marriage issues and being a Catholic in the world today. Along with his daily radio show, which can be heard weekday mornings on Sirius XM 129. Gus published his first book in 2010, "A Minute in the Church", a collection of one-minute Catholic apologetics teachings. His second book, "Magnetic Christianity: Using Your God-given Gifts to Build the Kingdom", was released in 2012 followed by "A Minute in the Church Volume II One Minute Answers to Questions About the Catholic Faith", "A Minute in the Church: The Mass", "A Minute in the Church: Life in Christ" and "A Minute in the Church: Back to the Basics". Nearly a million copies of the books in the "A Minute in the Church" series have been distributed around the world. He also writes his 60-Second Reflection, a daily meditation on the Scriptures.
PERSONAL WITNESS TALK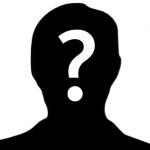 Once again, a Personal Witness Talk will be part of our conference lineup. A man from the audience will share his personal story of how his Catholic faith has shaped his life.
By sharing from his heart, the Personal Witness speaker helps the other men in attendance delve into their own hearts to see how God can and does work in their lives, even when they may feel overwhelmed with nowhere else to turn.
Each year, men in attendance have expressed how important it was to hear someone like them share his personal faith journey.
FR. ISRAEL "IZZIE" HERNANDEZ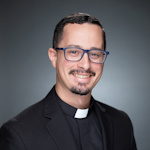 MASS CELEBRANT AND HOMILIST
Fr. Israel "Izzie" Hernandez is a Parochial Vicar at St. Paul Catholic Church in Tampa. Following his ordination in 2021, he was assigned to St. Stephen's in Valrico. As a seminarian, he served at St. Michael (Hudson), Incarnation (Tampa), and Cathedral of St. Jude the Apostle (St. Petersburg).
Born and raised in Tampa, Fr. Izzie is from a Puerto Rican family and the youngest of three children. He studied at the University of South Florida, where he received a degree in Business Marketing. He also has a Philosophy degree from St. John Vianney College Seminary.
It was through his own experience as a teen, that he was drawn to serve the Church and the people of God. His call to the priesthood came during his time ministering to the youth at Our Lady of the Rosary in Land O' Lakes. As he often shares, "It was during adoration at Camp Covecrest, that I heard the Lord say, 'Just give it a year'". All who know Fr. Izzie are thankful that he gave it more than that.
BACK BY POPULAR DEMAND!
Special Breakout Sessions
At our last conference, in response to feedback from past attendees, we added three concurrent Breakout Sessions to close the day. Each 45-minute session covered a topic related to the conference theme. The survey results from that conference clearly indicated that the Breakout Sessions were a huge success, so we will be repeating them once again.
NEW THIS YEAR: We will record all three breakout sessions and post the videos with the other conference recordings, so attendess can view any sessions they missed.
The topics and leaders for the 2024 breakout sessions will be announced soon.